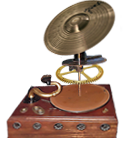 Merlefest Hillside Album Hour: Six Pack
2021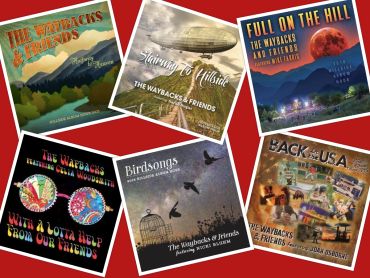 Bundle up your Album Hour memories in this mighty six pack of Saturday afternoons on the Hillside stage with The Waybacks & Friends for the dazzlingly low price of $60 for 6 CDs. Albums include:
• HALFWAY TO HEAVEN (2021)
John Prine • John Prine's 1971 eponymous release combines centuries-old Appalachian roots with the psychedelic sounds and political consciousness of the 1960s, and the Waybacks explore these seminal strains of "Americana" in a roiling hour and a half set of live music that veers from the nostalgic to the unexpected, heartfelt at both extremes. Careful listeners will find tributes to band heroes Bill Withers, Kenny Rogers, Dusty Hill from ZZ Top, and even Neil Peart and Rush.
Featured guests: Sam Bush, Jens Kruger, Tommy Emmanuel, a Jim Lauderdale, Red Young, and Noah Wall.
• STAIRWAY TO HILLSIDE (2019)
Led Zeppelin IV • (featuring Sarah Dugas, Sam Bush, Jens Kruger, Tony Williamson and Red Young.)
• FULL ON THE HILL (2018)
Tom Petty • Full Moon Fever (featuring Mike Farris, Tommy Emmanuel, Sam Bush, Buddy Miller, Jerry Douglas, Jim Lauderdale, Jason Crosby, and The Barefoot Movement's Noah Wall and Katie Blomarz)
• WITH A LOTTA HELP FROM OUR FRIENDS (2017)
The Beatles • Sgt. Pepper's Lonely Hearts Club Band (featuring Della Mae's Celia Woodsmith, Sam Bush, Jason Crosby, Jens Kruger, Noah Wall, Jim Lauderdale, Tony Williamson, Christian Sedelmyer, and Rachel Baiman)
• BIRDSONGS (2016)
The Eagles • Greatest Hits (featuring Nicki Bluhm, John Oates, Jim Lauderdale, Noah Wall, Lindsay Lou, Sam Bush, and Jens Kruger)
• BACK IN THE USA (2015)
Bruce Springsteen • Born In The USA (featuring Joan Osborne, Jim Lauderdale, Sam Bush, Jason Crosby, Jens Kruger, and Tony Williamson)